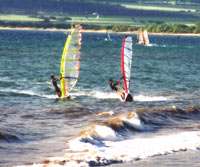 Aloha Maui Cottages is the perfect getaway for your dream vacation in Hawaii. We offer secluded vacation rental accommodations nestled in a tropical paradise. Our bed and breakfast is ideal for a quiet, relaxing holiday, a nurturing retreat, romantic honeymoon or family vacation. Each private cottage has full kitchen, bath and BBQ, with available sauna and laundry.
If our B&B is booked during your requested dates we recommend using Homey Hawaii to find a suitable condo rental on Maui for your visit. We've found their selection of accommodations to be very plentiful and fairly priced. You can also reach out to them and an actual person will respond with answers and advice.

Aloha Maui Cottages is walking distance to Maui's most stunning waterfalls and just minutes to Hawaii's best windsurfing and board surfing beaches. You may also decide to rent a vehicle. If so, consider our favorite discount Maui car rental from AlohaRents or www.cheapmauicarrental.com is an excellent alternative. Also nearby are the colorful tropical towns of Paia and Makawao, with affordable fine dining and exotic shopping. Our Maui vacation rentals are not far from the charming Hawaiian village of Hana with its red, black and white sand beaches and the 10,000 foot sunrise views at the summit of Haleakala volcano.

Your vacation at one of Maui's premier bed and breakfasts will be memorable. The old Hawaiian saying "Maui no ka oi" still holds true, Maui is number one – (based on independent surveys of the most popular island destinations worldwide).