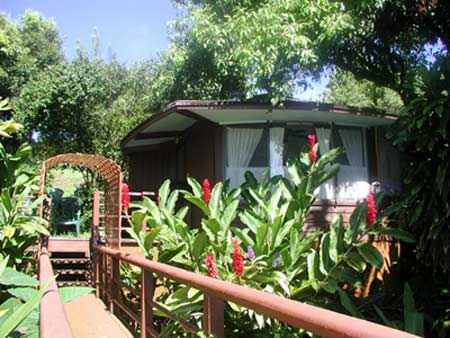 The Jungle Palace is set in a world of its own. As you traverse the private footbridge, you enter a land of tropical splendor, colored by the blooms of hundreds of flowers. The spacious circular studio includes a queen bed, large closet, well-equipped kitchen area and dining table.
A central skylight lets in filtered sunlight during the day and moonbeams at night. The full bath takes advantage of the surrounding private tropical gardens by employing glass view windows while maintaining complete privacy.
Our Maui Condo, we like to call Jungle Palace, rents for $100 per night with a 3 day minimum and $85 per night by the week.
High season rates are $115 per night and $100 per night by the week. Two week discounts and monthly rates are available on prior bookings. Children's futons and bedding available at $5 per day.